Thank you for taking a look at the artist interviews on ishknits.com.  I feel that it's very important for emerging artists to have a stage to present their beliefs and ideas.  I believe that it helps to encourage artists to keep creating, and it also gives them the opportunity to conceptualize their work in the earlier stages of their art practice.  Even in these first two interviews I have already seen how wonderful and powerful it is to be able to engage with the yarnbombing community and learn what inspires them.
In my second installment of emerging artist interviews, I've focused on Kristin Wolfe, a yarnbomber named the "Twilight Tagger" in Scottsdale, AZ who currently works in the fiber world as a Senior Sales Associate at Justin David Textiles.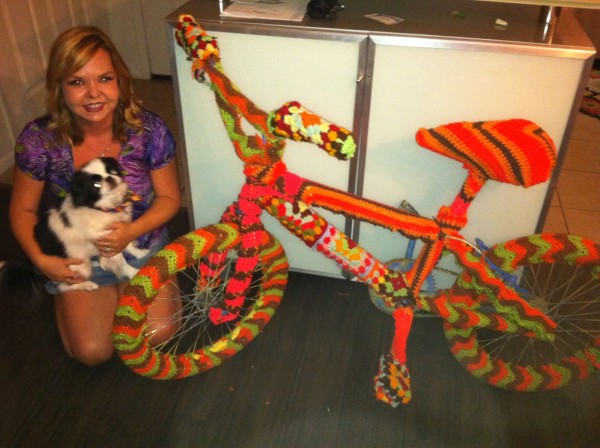 1. What got you interested in yarnbombing? I have been obsessed with fabrics/textiles/fibers since a child. I went to school for Fashion Design, but emphasized in the speciality area of Textiles. From there, I got a fulltime job working for Justin David Textiles, a supplier of fabrics to the hospitality and hotel industries. However, growing up in the 80's and 90's – I feel in love with urban culture/graffiti/hip hop and always had thought, I wish I could do graffiti with my fabrics? My brother is a graffiti artist, so it all seemed natural. Then, in 2010, I heard about International Yarn Bombing Day – I became obsessed and yarnbombed my brother's house as my guinea pig project. Ever since then – I have been full speed ahead with what I call my "passion project" Now, 3 years later – I've worked with the City of Scottsdale to do the new bike racks and have even been dubbed the "Textile Tagger". 

2. Are you interested in other forms of street art? What interests you about it? Yes, I was influenced with what I call the urban couture movement – any way to beautify the world with art! However, I wanted to express myself in a fashion which wasn't so "permanent"….
3. What is your favorite kind of Artwork to make? My favorite are my paintings. I incorporate textiles I design and print along with spray paint and stencils – to create a high end look. People are amazed at the mediums I actually do use. I often yarnbomb or "graffiti thread" my paintings when finish – which involved wrapping them with yarn and thread/string.
4.  What inspires you to make street art? COLOR! The more neon and vibrance that I can add the better – it brings a smile to everyone from all walks of life.
5. Have you gotten reactions to your street art? What have they been? Positive. I am currently taking Arizona by storm with 2 comissioned jobs now, and another bid pending.
6. What message would you like to get across to others in your work? Always follow your passion or what makes you happy! I had a lot of people wrinkle their nose at "yarnbombing" and this "quirky art style" – but I found that it made me so happy – that I couldn't NOT do it! 🙂 I am lucky I have a husband, family and friends who all support me in my endeavors. I can't help but call my 90 year old Grandma the O.G. Yarnbomber (Original Gangsta). She has been making yarnart in the form of signage (cross-stitching) for as long as I can remember. Every bit of my work honors her in some way as well.
7. What are you working on now? I am one of 20 artists selected at the Artel Phoenix Event, which showcases Installation Art / "Pop-Up" art in a current and new fashion. The exhibit airs Sept 6th and 7th at this terrific and unique boutique hotel in central phoenix, The Clarendon. I am honored to have been selected.
8. What's your dream project? This is really cheesy: But I want to yarnbomb a celebrity or rockstar's stage before a performance….And maybe even them! 🙂 More than anything, I want people to know to follow their dream. If I had listened to everyone who told me it was a weird hobby, I wouldn't be here now. Cliche as it is, beauty is in the eye of the beholder.
If you're interested in having your work featured on the ishknits.com blog, send an email to ishknits@gmail.com